Zsolnay "Masterpieces of Hungarian Art Nouveau"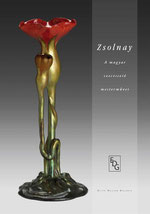 The Elite Design Gallery has released
a new Zsolnay book to celebrate the
175th birthday anniversary of Vilmos Zsolnay.
The book is presented in 152 full colour pages and
provides detailed descriptions of Zsolnay's
Art Nouveau ceramics, together with a history of the factory and illustrations of all relevant marks.
Written in both Hungarian and English,
the book has a hard cloth cover with dust jacket and measures 12 3/4 x 9 1/2 inches.
Truly a "must have" addition for all Art Nouveau collectors.
To order, please contact me for payment and shipping information.
Representative pages from the book