History Of The Zsolnay Factory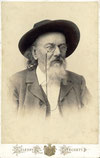 1853: The factory was established by Miklos Zsolnay (1800-1880) in Pecs, the major provincial city in the southwest of Hungary.
1854: The factory was signed over to his oldest son Ignaz Zsolnay (1826-1900).
1863: The younger son Vilmos Zsolnay (1828-1900) helps financial by  purchasing a piece of clay from Ignaz.  
1864: Vilmos Zsolnay purchases the factory ground with buildings and  becomes silent partner. Ignaz stays as factory manager.
1865: Ignaz Zsolnay who was not successful in managing the factory  emigrates to Romania and Vilmos becomes owner of the factory.
1868: The factory was re- registered by Vilmos to his own name.
1873: Success on the World Exhibition in Vienna.
1878: World Exhibition in Paris winning the Grand Prix
1879: Ernst Wahliss becomes exclusive distributor of Zsolnay products  outside of Hungary.
1881: International Exhibition in Sidney and Melbourne honored with first  class certificate.
1891: Vilmos Zsolnay and Wartha Vince starting glaze experiments
1892: World Exhibition in Kolumbia (Grand Prix in bronze)
1893: The production of red Eosin glaze starts. (reduced glaze with iridescent  lustre)
1893: World Exhibition in Chicago (Medal for Specific merit).
1894: World Exhibition in Antwerpen (Grand Prix).
1895: International Exhibition in Nizza (Gold Medal, Grand Prix)
1896: National Millennial Exhibition
1897: World Exhibition in Brussel 
1897-1899: New young artists were employed (Sandor Apati Abt, Henrik  Darilek,    Lajos Mack, Geza Nikelsky). The famous Nabis painter Josef  Ripple  Ronai comes t  o the factory to make the decoration design for a  dinner-  service ordered by Count  Tivadar Andrassy.
1900: Vilmos Zsolnay dies . His son Miklos becomes director of the factory.
 World Exhibition in Paris.
1901: International Exhibition in St. Petersburg (Gold Medal).
1902: International Exhibition in Turin(Certificate of honor)
1904: World's Fair in St. Louis (Grand Prix)
1905: International Exhibition in Liege (Gold Medal)
1906: World Exhibition in Milan (duck fontain by Geza Maroti)
1908: International Exhibition in London (Grand Prix) and Faenza (Certificate  of honor).
1910: World Exhibition in Brussel (Grand Prix).
1911: International Exhibition in Turin (Wall tiles from Geza Nikelsky).
1922: Death of Miklos Zsolnay
1929-31:  World Depression. Economical crisis, 200 workers dismissed. Production reduced to 3 days per week. In 1930 production falls to 50%.
1935: The sculptor Andras Sinko was employed.
1948: The factory was nationalized. The production of China, Fireplaces and Pyrogranite was stopped.
1953: Production of China starts again. Ceramic artist Antal Gazder was employed.
1956: Ceramic artist Janos Török and Janos Fekete were employed by the factory.
1962: Artist Gyorgy Fürtos and Judit Nador starts working in the factory.
1963: The factory looses independence. 
1970: Opening of the factory store in Pecs.
1977: Anna T. Suranyi joins the design department.
1982: The factory becomes independent again. 
2003: Anniversary of Vilmos Zsolnay's 175th birthday and the 150th anniversary of the factory.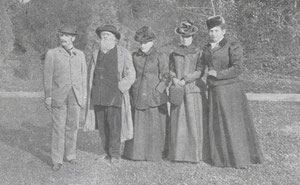 From left:
Miklos Zsolnay (son), Vilmos Zsolnay, 
Terez Bell (wife), Julia Zsolnay (daughter), Terez Zsolnay (daughter).